After pretty much finishing it over a week ago, I finally got around to trying out my draft Meringue skirt from the Colette Sewing Handbook. This is the first and most simple pattern in the book, focusing on the basic sewing techniques in the first couple of chapters. Someone who isn't a complete noob or is good at following instructions would be able to finish it in just a couple of hours, if not less.
Pity I'm both a noob and terrible at following instructions. Thankfully I decided to do a muslin in some cheap fabric to test things out. Here are my mistakes, in chronological order:
Accidentally decide on a size two sizes too large for me, and only realise when cutting the last piece (from the original tissue pattern, which I'm going to stop doing after this experience).
Recut the pattern pieces to correct size; accidentally do a couple two sizes too small.
Try to attach paper to too small pieces to redraw at the correct size; get sticky tape caught on the tissue causing it to fold and tear off a section.
Random oil stain on front piece; cannot seem to get out (note to self: be more careful when your sewing table is also your dining table).
Spend a good amount of time trying to figure out how the hell to sew on a zipper, despite clear illustrated instructions in the sewing book.
Install zipper; sew on waistline facing but between re-cutting patterns and other issues one side sits a centimeter or so higher than the other. Figure it's on the inside so doesn't really matter.
Understitch waistline hem; ends up uneven and visible in some places.
Sew scalloped hem facing on; puckers un-prettily when turned right side out despite clipping.
Hand sew hem with a neat catch-stitch; ends up uneven in some places and needs to be pulled out and done again.
Of course this isn't to say that the pattern is hard to follow – it's actually very clearly laid out and refers you to places in the book that explains certain stitches or techniques. My issues were very much due to silly mistakes and not paying enough attention. I'm hoping my 'real' version will be more successful?
I really hate posting photos of myself, for various reasons, but in this case it seems a bit necessary. I made this a wearable muslin since I thought the pattern was simple enough to not require massive adjustments, and so I could wear it around for a day and see if I wanted to make any changes. A few thoughts after wearing it to work today:
I'm quite a shorty and I don't think this length is very flattering on me, so I'll probably adjust the pattern to a couple of inches above the knee.
There's actually still quite a bit of space in the waist and everywhere really – I think it would look and sit better if it was one size smaller.
I'm undecided about adding a waistband or not – I think it would look a lot better with a plain colour like this, but maybe the streamlined look without would be better for something patterned?
It will definitely work better with a more heavy material (I chose this one for the muslin just because it was cheap and I liked the colour!)
I originally bought some cute fabric with a cherry pattern to make the 'real' version of this skirt in – I figured it would work with the cute scallops of the hem. But looking at this I think the simplicity of the block colour makes it less cutesy and more wearable?
Styling-wise, I think my (synthetic and a bit clingy) top was a poor choice. It would look a lot better with something that's either tight or drapes better.
Although this version didn't work out extremely well, I'm a bit attached to the blue. Once I have this pattern fitting nicely I think I'll make a better one in a similar colour, maybe with a waistband and red or yellow piping!
So my next step hack and mess around with this draft a bit more, copy out the pattern pieces with my adjustments and the addition of a waistband, and sew up a hopefully more refined version!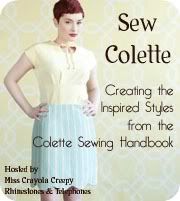 P.S. There's a Colette Sewing Handbook sew-along starting this week on the Rhinestones and Telephones blog, which will go through one pattern from the book each month. I'm looking forward to seeing if they have any fitting tips when they get up to that point, and I'll be following along with them working on my Meringue skirt and the rest of the projects over the next few months. Come and join in!